Garden Wedding Ideas
Garden weddings have gained a lot of popularity in the recent past. If you are considering a garden wedding, you'll be spoilt for choice when it comes to selecting the venue. Current trends have seen garden weddings hosted in all sorts of places including public parks, botanical gardens and private estates. Your home or that of a relative/neighbor can also host your garden wedding while ensuring maximum privacy or you can rent a garden wedding venue like Miramare Gardens located in Sydney.
The weather always pose a challenge when it comes to an outdoor event, as it can be very unpredictable. Here are some ideas to ensure that your garden wedding goes smoothly irrespective of the external factors:
Have a backup plan in case of extreme weather.
Most weddings are held in summer, and the temperatures can get a bit high for comfort. Arrange for tents and parasols so that the guests can sit in the shade. Designing the programs in the shape of fans also helps. The tents come in handy in case of sudden rain. Alternatively, you can go for a venue that has buildings nearby, where you can relocate to if the outdoors become unbearable. The decorations in this case should be easily portable in case such a shift becomes necessary.
Image:
Source: http://www.weddingelation.com
Talking of decorations, they should be kept simple.
The garden itself with all the vibrant natural elements around already offers a beautiful backdrop for the wedding. As you chose your flowers, ribbons and other adornments, do not camouflage or compete with nature. Go for colors that offer a sharp contrast with the green backdrop, so that they can stand out.
Image:
Source: http://www.elizabethannedesigns.com
Select flowers that can withstand the heat, otherwise they will start withering before the wedding is over. An experienced florist will help you select resistant flowers. You can have some water containers in a shady spot where you occasionally dip the wedding bouquets. Alternatively, go for artificial flowers which will not be affected by the weather.
Image: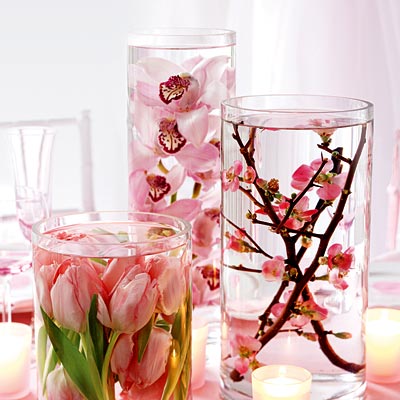 Source: http://busybeedesignstudio.wordpress.com
The bridal gown and bridesmaid dresses should be suitable for an outdoor event. Steer away from heavy and bulky fabrics. Make the dresses short or medium length. Avoid dark colors as they retain the heat. The gown is better off without a train, which will only give you a difficult time dragging around on the grass.
Image:
Source: http://mirandalainephotography.com/
If you plan to wed in a public place, find out if there are other events slated on the same date. A noisy concert or reunion party on the same venue will deviate attention from your wedding. Such events will also encourage wedding crashers who add no value to your wedding. If you feel that you'll not be accorded the privacy that you deserve, get a better venue.
Use wooden furniture whenever possible. Metal chairs and tables can get uncomfortably hot or cold depending on the weather. Wooden is also lighter thus easier to transport.
Image:
Source: http://snippetandink.com
This list is by no means exhaustive of all the ideas that you can incorporate in your event. It however contains essential tips that can make your garden wedding more stunning and for more ideas you can visit Pinterest.  All the best in your preparation!